Kaige James Russell Dunham! 

Do you know what a true hero is? Do you know why you were put here on this earth?
I know the answer to these question. One is my son is a true hero and two I was put on this earth to be a mother and to help raise my children no matter what. I was here to be his arms and legs and sometimes his lungs and to help him see the world in a beautiful way that many people don't ever have a chance to see. I am here to help him on his way to help other find a cure for SMA and to spread the word.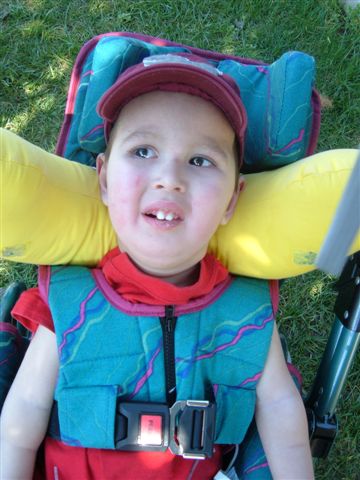 Hello everyone. Welcome to Kaige's site. First I want to thank you for taking the time to check out this site and see what Kaige and the rest of the family are up to.
Well if you don't know Kaige yet let me tell you a little about him. Kaige was born to Russell and Heather Dunham on May 27th 2003. He had two sisters awaiting his arrival Mckayla his oldest sister and Paris Rain who just turned 2 years old three days before. We knew Kaige was going to be a boy and that he was going to be healthy. Cause why wouldn't he be? Why would any doctor think he wasn't going to be healthy. Russ and Heather had Paris Rain together and she was healthy and beautiful. Why would we think anything was wrong? Well Mommy always had some feeling from the time she could feel you kick inside. I (Heather his mommy) knew Kaige didn't kick the same as Paris and I told the Doctor that "he doesn't move or kick as much as my daughter did". And that was that. I just thought that "each pregnancy was different ,And this child must be more laid back then my daughter was (which by the way is SMA FREE)
Well the day I had Kaige I noticed something.. As we changed his diaper and laid him on the bed I noticed how he was so relaxed unlike other new born babies that are all tight fisted and in a tight ball. Kaige was different he was so spread out. I thought look at him. He is going to be such a relaxed kid. But the funny thing is no one noticed but me. No doctors or nurses, ever said anything. He looked great ! Well the weeks passed and I told my husband "look he doesn't push back very hard with his legs" I said this for a few weeks. I got on line and looked through tons of my pregnancy books .Looking up "development and delays" and "milestones". Everything I read just said ask your doctor if your child doesn't reach these milestones in time. I got on line I could find nothing that would explain WHY WHY WHY my child wasn't doing the normal things that my daughter had done at certain ages. So 5 weeks of age we went to the doctor. Our doctor wasn't there so we saw another doctor in the office. He said he saw what I was talking about and if he didn't show signs of getting better or if he got worse then we would send him to a specialist. WHAT A SPECIALIST!!!!I knew right then and there that something wrong. Well a week later we went back for shots and I brought it up again. This time it was his doctor and she said she noticed how he didn't have a startle reflex or that his gag was kind of slow and how when she picked him up that his shoulders would slouch up. She said right then and there we are making an appointment to go to Stanford to see a neurologist.
Well Kaige was 12 weeks old when we first went to Stanford. And it took 4 weeks (back then) to get the test results back. That was the longest month of my entire life. Wondering each day if your Child was going to have a disease that will take his life by the time he is one and if not he sure won't make it to the age of 2. That was unheard of.
Well Russ and I knew right then and there that we had to DO SOMETHING!! I asked if there were any clinical trials that we should know off. There was one that Stanford was trying to get approval on from the FDA but it still would take months to get everything in order. First we were told October of that same year. As we held each other through crying and breaking down we were told December. Oh god please let this be the best Christmas ever... Well that month passed. And as we stayed home afraid to leave our home due to the flu season and all the germs that we might come in contact with the days went by. The lack of seeing our families whenever we felt like it went right out the window. we had to make sure NO one was sick at all. No one is allowed over to the house. AT ALL if you were sick or even knew someone was sick!!! You were not allowed over!
But it wasn't long... it was coming.... Kaige and Paris got hit and got hit hard. Paris was really bad. high fever for days .And poor thing she was the healthy one. She could get threw this but could Kaige?!
That would be the first trip to the local hospital. Where no one knew what SMA was. A nurse told me she had to look it up on line to find out what it was... That didn't make me feel too good. I told the hospital to let Stanford know that he was here and he was breathing so hard he was going to poop out!! So we waited for TRANSPORT It took hours. But we got there. All I knew was I had to do everything in my power to keep that little boy ALIVE!! I had to get him on that Study it was our only hope. We were in the hospital for two weeks.
I never left the room I never left his side. I only sat when he slept cause he couldn't see me if I was in a chair. It was to hard for him to strain his eyes. This is because he has a BI-PAP on for the first time. I was told that he would always be on the bi-pap and I would have to take him home and call in Hospice! I knew in my heart this was not the time. We need to wait to get him on Hydroxyurea. I asked if they could give it to him. PLEASE GIVE IT TO HIM. You say he is going to Die Why hold it back from us what will it hurt. Well that didn't happen. Kaige was good enough to go home. A few weeks later we got a call from Dr.Wang at Stanford. The STUDY WAS aPPROVED!!! Kaige will be the first child to start. THANK GOD.. it wasn't but a few weeks after being in the hospital that Kaige Started wearing the Bi-pap only at night time and at nap time. What a trooper.
Well it has been a long ride so far. lots of trips to Stanford and a huge move for our family. We moved from Monterey California to the central valley. It was better in the long run for us. Me not being able to work and my husband always working it was the best choice we made. A lot of sacrifices but it is panning out. And Kaige is going to turn 2 this month MAY 27 2005.Yes everyone he has made it so far. Many sleepless nights and crying and praying. Many many prayers have been made for him and we have felt every single one of them. Kaige is here and we know in our hearts that he was getting the Hydroxyurea from the start. And now he has 2 months to go and he will be all finished with the study part of the trial. Russ and I have both agreed that we want to continue Kaige on this road with the Hydroxyurea. It has shown us that he is still here today to continue to fight. We believe that Dr.Wang and his colleagues are on the right path to a cure. And we want to be the first ones in line. Just like the day we went to Stanford and we waited. We will continue to do so until there is a cure found for this horrible disease. We have helped Kaige get through many nights with only the help of my husband and myself. We hate to take him to the hospital. It seams to only make things worse on him. I have learned to help him in so many ways that I as a mother never thought I would have to do for my child. But I would never change him. He is an angle with or with out SMA. I love him unconditionally for how he is and not what he has. To me and my family he is a true hero. He is helping the next child who gets SMA go through less then what he did just by being on this study. There are people in life who are healthy and may never know what there purpose is here on Earth. But with Kaige it was apparent. He had to help even though he can not lift his hands or say with his own lips. You can see nothing but joy in his eyes every morning when I get him out of bed. He is a happy little boy. And when we pray for children that is all we really can hope for. Happy and healthy and we are working on the healthy.
I hope you come back often This is a new site please bear with me. I will add more as it comes along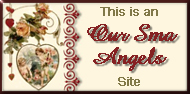 Supported by SMA Support