Charlie's Story (written in August, 2004 by Charlie's mother, Jemma)
Before telling Charlie's story, I'd like to tell something to people who are reading this.
If you are a parent whose child was recently diagnosed with SMA, I want you to know that my heart truly aches for you and your precious child.
One year ago, I was in your shoes. On the night Charlie was diagnosed with this horrible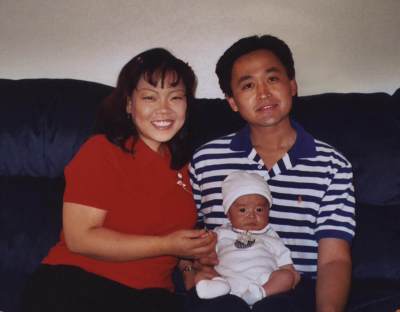 disease which I had never heard of, I came home and read over 100 stories of mothers who lost their children by SMA. I know how you feel now and my heart cries for you.
As you can tell by the date of Charlie's life, we lost Charlie in less than 2 months. As the severity of SMA and the choice of parents vary, the lengths of children's lives also vary. Before making any decision, we hope that you read Charlie's story and also read many different stories of mothers who chose different paths.
Though the choice parents take for the child is not the same, the love for the child is always the same. No parent wants to lose his or her child, but in love, we choose different paths for our children.
If you are our family members or descendents who are reading this, I want you to know about our most special child, Charlie who lived his short life to the fullest despite of a horrible disease. You will learn from his story what it means to truly love someone until the death does us apart. We also want you to know that because Charlie has died by this disease, you never need to go through the exact pain he, I, and my husband, Chuck had gone through. For that reason, you do owe a little favor to him who has suffered through this disease and sacrificed his life. You have to get tested for this disease to see if you are a carrier and have an obligation to tell your descendents about this special boy and the disease.
<The Birth>
Charlie was born on June 25, 2003. He was our first child, as well as the first grandchild on Chuck's side of the family. We waited with much joy and anticipation for his arrival. His room had been completely decorated three months prior to his due date. I remember making his curtains by hand and thinking to myself, "when he grows up, I will tell him that I made this curtain by myself for him and he will know how much he was loved even before he was born."
Although I had to endure 20 difficult hours of induction that ultimately resulted in having a C-section, I never cared about my pain and prayed for a safe arrival of our boy. Not only Charlie arrived to this world in a safe way, but in the most beautiful figure we could ever imagine. He was the most beautiful boy we have ever seen. He had such big and beautiful eyes, a round and perfectly formed head, a cute nose, and rosy lips. His beautiful eyes stared at us from the moment he was born as if he understood everything we were saying. He weighed 7lbs and 7oz (3.5kg) and was 19.5 inches (49.5cm) long. I lost my consciousness for 2 hours after the C-section, but as soon as I woke up, I held him in my arms. I noticed right away the unbelievable beauty in his eyes and the indescribable peace in his presence. I smiled at him for the first time and sang Happy Birthday to him as he listened with such a happy face. I never could imagine in my wildest dream that it would be the first and the last time I could sing the birthday song to him in his presence.
Charlie's initial crying was very cute and gentle. We had never heard such sweet crying before. He also had the sweetest personality from the day he was born. My husband and I told each other he is a true angel. After only three days, he started to smile. These smiles just brightened up the room and made everyone's day. Everybody said that they have never seen a baby with such a big smile at a very early age. The nurses at the hospital voted Charlie as the cutest baby on the floor and competed with each other to hold him. Our joy and happiness could not be described by words.
Our happiness continued but it was clouded the next morning when the pediatrician came to give Charlie a checkup. The pediatrician told us that Charlie's legs and arms were not moving as well as they should be. He said Charlie was more limp than usual. He told us not to worry at the moment since as he explained, some babies are born "hypotonic" with limited movement at the beginning, but later their movements become normal. In order to discover the cause of his hypotonia, the neonatal doctors ran various tests. I recall signing so many authorization forms and feeling weary. One of the forms was to do a genetic test to screen for Spinal something. Since we both have no immediate family members with any kind of neurological disorders, we decided not to worry and believed that Charlie's mild hypotonia would eventually disappear. During our stay at the hospital, all of the test results came back negative. The results of the DNA test were not ready, but we were confident that there was nothing seriously wrong with our baby boy.
<Charlie at home>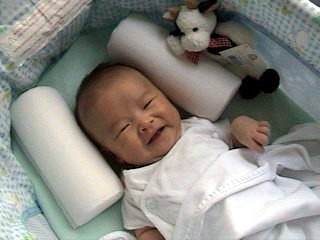 Although we had some concerns, we were thrilled to have our little boy with us in our home. He had his own beautiful room and three adorable cats waiting for him to arrive. Now with Charlie at home, we were a complete and happy family. With no immediate family member living close by to help us, my husband Chuck and I took care of him the best that we could. My C-section incision remained open, but I still got up and held him each time he was even a little bit fussy. My husband who commutes 100 miles everyday to work fed him and held him everyday, even though he was so tired at times. We really understood the meaning of unconditional love and what it means to love someone more than yourself.
Charlie had difficulty with breastfeeding at the beginning because he had been born with a high palate like his father. To make him become comfortable and familiar with breastfeeding, I had to put him on my breasts for 15 minutes at a time and then start to pump my breasts to feed him with the breast milk. The hard attempt to breastfeed him continued for the first three weeks. To make his hypotonic arms and legs stronger, I also exercised him everyday after the each feeding. He loved exercising with me and smiled at me always. The whole procedure took almost three hours each time and I only slept about two hours everyday, but for the love I had for him, I didn't mind at all. Many people advised me to give up breastfeeding Charlie since I was extremely exhausted and had no help. Although I felt like fainting at times, I never wanted to give up sharing the special bond between a mother and her baby. I wanted to give him only the best. After a great amount of effort and persistence, I succeeded at letting Charlie suckle my breasts. We shared such special moments during these feedings and they lasted until the day he passed away.
<The diagnosis>
We were blissfully happy for one month with him. He was the perfect child any parent ever dreamed of. He never cried unless he was hungry and always had the most beautiful smile I had ever seen. Every time when I kissed his cheek, he smiled like an angel. We could not believe how sweet he was and was so very grateful for the wonderful son. But our unbelievable happiness did not last very long.
When he was exactly one month old, he unexpectedly did not want to eat at all one night. Although this was my first time as a mother, I knew a baby was supposed to eat every three to four hours. At 1AM feeding, he did not want to eat and looked very sleepy, so I thought he just wanted to sleep more on that night. But at 5AM feeding when he still did not want to eat, I knew something was not quite right. I took Charlie to the pediatrician right away in the morning. Despite Charlie had just little bit of a pale face outside, he had a much more serious problem inside. I started to realize how serious the situation was by looking at the pediatrician's face. At one look, the doctor started to examine Charlie in a hurry. In a shock, I found out that his oxygen level was only 40% compared to the normal level of 100% and his right lung had completely collapsed. He was rushed to a Neonatal Intensive Care Unit right away. The ER staff was desperately trying to revive him. The shock and pain I felt in my heart was so intense that it felt as though someone was stabbing my chest with a knife. I remember tears were running down on my face like a river as my eyes looked at him in devastation. Even though he was mostly unconscious, Charlie looked back at me every time I called his name. I told Charlie as he laid in the incubator, "please hold on Charlie. I love you. You're going to be okay. Don't leave me like this!!"
My husband drove as fast as he could from work and arrived at the hospital as soon as he heard Charlie had been hospitalized. When Charlie had stabilized, the NICU doctor called us in and asked us to sit down. I remember feeling weary as the doctor closed the door firmly with a very serious look. He told us that he had found what caused Charlie's sudden lung failure. He said one final test result that had been done after Charlie's birth came back positive. The results were positive for a genetic disorder called Spinal Muscular Atrophy. We asked immediately what it means to have this disease. This insensitive, heartless doctor answered very emotionlessly with one sentence. He said, "it means your child is going to die." Although I was in such a state of shock, I managed to ask, "how long?" This doctor with the compassion of a dictator answered again without any sympathy, "for cases of weak babies like him, they usually only last for a few months."
<The life after the diagnosis>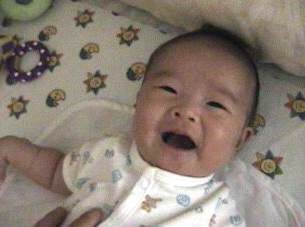 I didn't rest at all for two days and didn't even sleep during the nights. I read everything I could on the Internet about this condition that we had never heard of. What I learned about the disease was so devastating that every word I read crushed each bone in my body. I realized that the collapse of Charlie's lung was only the beginning. This horrible disease not only would take the movement of his lungs completely some day, but also would prevent him from swallowing, crawling, even smiling eventually. FSMA.org was the first website I found and I read every story that was posted on the message boards. I also found smasupport.com and read over 100 stories of mothers who had lost a child by SMA or have a living child with SMA. Among those stories, I read close to seventy children's stories describing their births until the moment they died. Some mothers had very detailed journals from the date the child was diagnosed to the date she had to bury the child. I contacted SMA organization right away and told them that I needed to talk to the mothers with SMA children. I contacted SMA Southern California Chapter also and the leader of the chapter contacted other mothers. Some mothers were very gracious and gave me their phone numbers to talk to them. E mails were started to pour into my e mail account right away from many mothers who had or have SMA children. I contacted as many people as I could and talked with them about their experiences. After talking with the mothers what they had to do for their children with SMA, I had to face one truth that I never wanted to. Though I was in such a state of shock and disbelief, I knew that Chuck and I had to make a decision. The most difficult and horrible decision a parent has to make. We realized that this horrible disease has no cure yet and we had to decide if we wanted to prolong Charlie's life with medical interventions or allow him to die naturally. We told each other over and over again, "how does any parent have to make such a decision?" From one day, we were making choices such as what color clothes he should wear to deciding if he should be on a machine to make him comfortable and extend his life. Since there was no cure for the disease, the doctors not only gave us a complete power to decide if he should be on a machine, but also relied on us how many machines we wanted to use for him. When the same NICU doctor discharged Charlie from the hospital, he reminded us again that SMA has NO cure and asked us if we wanted to sign a Do Not Resuscitate form. We could not believe someone could just simply ask us such a question, as if we were signing a sympathy card for someone. He was asking us to make a decision in only two days if we wanted to let our baby go without doing anything next time. Still in the state of a shock, we could not say a proper response to the doctor and left the hospital with our boy. We told each other as we cried on the way home that someone like Charlie should have had the chance to grow up and become a caring and compassionate doctor, unlike the cruel and inhumane monster.
<The decision>
Since they cleared Charlie's collapsed lung, he looked totally fine and so very happy everyday. Though we smiled back to our precious boy every time he smiled at us, we knew in our hearts that it was just a matter of time until the horrible disease would collapse his lungs again.
Whenever we felt so much pain and sorrow, our boy brightened our minds with his radiant smile. His smile had a power to let us forget what was happening and a miracle to let us be happy in the midst of sadness.
But again, unfortunately the happiness did not last so long.
As we were struggling on making the incredibly difficult decision, Charlie once again had problems breathing and experienced another lung failure after just five days from being released from the hospital. He was rushed to the ER and we were faced with looking at Charlie with all the tubes and tanks connected to his tiny body again. We were living in the worst nightmare any parent could ever imagine. This little five-week-old baby had drawn more blood than I ever had during my entire life and was breathing through machines that I had never seen before. While he was staying in NICU, a neurologist examined Charlie and an EMG (Electromyography) test was recommended to confirm that Charlie had SMA 1. Although we hated to put Charlie through any more tests, as parents, we held on to a thread of a hope that the blood test confirmed SMA could have been a mistake. He was transported to UCI medical center where again I had the misfortune of meeting several cold and uncaring doctors who would perform the EMG test on our precious boy. A supposedly renowned neurologist entered the room with several students who looked at Charlie as though he was a monkey on display. The neurologist never spoke a word to me and did not even bother to introduce himself to me. Without any explanation of the procedure, he poked Charlie with needles and ran electrical shocks through his body to test for muscle damage. Charlie cried non-stop for 25 horrific minutes as my heart died with each cry. Even before he spoke a word to me, this cold and insensitive doctor had the audacity to point to Charlie's hands and tell the students, "look at this. A child with this disease has hands like this." All the students looked at his hands with no emotion and took notes.
SMA 1 babies tend to hold their hands as fists and bend their wrists inwards most of the time. They usually have no movement from the elbow down. Although I knew this was not normal, his little movements were the cutest and his hands were the most beautiful things I have ever seen. I know I will cry until the day I die when I think about how these inhumane monsters looked at Charlie. I told this heartless doctor to shut up and asked him to just tell me if the test confirmed that Charlie had SMA 1. He just responded, "of course." They had planned for Charlie to stay at the hospital overnight, but I demanded that the hospital staff transfer Charlie back to our local hospital immediately, otherwise I was going to take him home myself. I was not going to allow Charlie to spend even one more minute with these uncaring and inhumane monsters that had the nerve to call themselves doctors. Except for the doctor who told us about Charlie's SMA, all of the other doctors and nurses at our local hospital were very wonderful and loving to Charlie.
I learned from the test that he had almost no muscle strength and already lost most of movements throughout his body. As his mother, I knew that he was losing his ability to move more and more each day, but I did not want to admit it and wanted to be in a denial.
But in reality, I realized that a part of me already started to die when his muscles slowly started to deteriorate.
Charlie was extremely exhausted from the test and he lied down whole day without any movement. He remained half unconscious, but every time when I called him, he opened his eyes and looked at me. With so much love and pain, I really looked at Charlie's eyes.
I realized that the little boy stared at the hospital ceiling with such empty eyes. I was always aware of our boy's thoughts and feelings. From the moment he was born, I felt what he felt all the time. I was in tears and my heart broke in pieces as I looked at the expression on his face. I could not believe how 5 weeks old baby could have such sad and empty eyes. I looked at his eyes long and hard and felt his heart. He was truly sad being at the hospital. The lovely boy who smiled everyday at home had NEVER smiled once at the hospital. His little spirit was fading away. Our happy time together was slipping away. I knew then what I had to do. I had to make the decision. I knew in my heart that he did not have so much time left in this world.
With so much love and courage, I looked at his eyes and told him, "we love you so much. No more tests, Charlie. No more hospitals. No more doctors. No more machines.
We're going home."
<The life after the decision>
Charlie was baptized in a full ceremony when we went back home. With the love of Charlie, no matter how sad we were, we always smiled in front of our boy. We only wanted him to know the happiness and the joy in this world. In his short life, we did not want him to see us crying and being sad for his life. We were determined to make his short life as the happiest life one could ever experience in his life.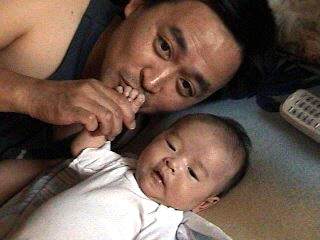 All of our family members supported our decision. We chose a hospice care which only aids his last moment comfortably, but does not prolong his life by using a machine. We knew that we had a very limited time and never knew when his lung would fail again. It could be any moment or any day. Except for the time we had to sleep, we stared at our angel's face. We told him that we loved him a hundred times a day. Every moment was precious. Every time we changed his diaper, we told him, " Charlie, every diaper change is blessing to us. Thank you for being with us today."
His life was truly happy every moment he lived. He smiled from the moment he woke up until he fell asleep. He often smiled even when he was sleeping. Though his time was so very limited, he had the best time when his grandparents, uncles, and aunts had visited him. He smiled at everyone who had visited him and he gave his Mommy and Daddy the biggest smiles we had ever seen. Every time we were so sad thinking about his last day, he smiled at us and lifted our minds from the darkness miraculously.
We told him so many times that he is truly an angel. He was breastfed everyday and was told every minute how much we love him and always will.
I prayed God every day not to take Charlie's ability to swallow before his death. I could not even imagine the day he could not eat from his mouth ever again. But even before worrying about his inability to swallow, his lungs started to fail again. When he started to show the trouble of breathing, we knew the dreaded day had arrived.
<The final day>
Our baby boy was dying. All we could do was to hold him and remember his beautiful figure as much as we could. We hardly ate and slept. We just caressed his little body and stared at his face, little hands and feet over and over again. We told him that we love him every time when he opened his eyes.
Charlie could not eat at all during his final two days and I was heartbroken to see our baby not able to drink a single drop of milk. In tears, I begged him to take some milk and told him that I could not go on with my life if he leaves us this way. Miraculously, on his last day, Charlie became very conscious and started to drink some milk. We fed him every four hours and talked to him the whole day. The hospice nurse told us that maybe Charlie was going to make it this time since she had never seen a baby who started to eat when he is about to die. Since Chuck and I could not get any sleep for two nights, we put him in the middle of our bed and Charlie happily went to sleep together with Mommy and Daddy on that day. At midnight, this boy who had not made a single sound for two days made a little cooing sound to wake us up. As soon as I looked at his eyes, I knew right away that Charlie was about to die. He had the clear eyes of someone who is about to go to Heaven. I can not explain how, but I knew this look by instinct. He stared at Mommy and Daddy back and forth for the last time. His beautiful eyes told us that he was very aware of the presence of spirits. As his mother, I could feel so clearly that he wanted to comfort us as he tried to remember our faces for the last time. As his eyes fixed to the faces of Mommy and Daddy, he slowly stopped breathing after a few minutes. It was the most peaceful death I have ever seen.
He was such a good boy who had granted our wishes even in the final moments. He gathered all the strength he had and took breast milk from Mommy. He also knew that we wanted him to go in his sleep peacefully, but that we wanted to see him one more time before he left. He was a true angel in disguise.
<The life after the loss>
Now the hardest and longest road we never wanted to walk lied ahead of us; the grief.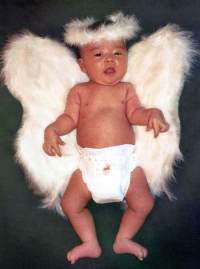 The grief after losing a child is the hardest thing one can ever endure in his/her life. With our only baby no longer in our lives, we woke up without hearing his beautiful cry the very next day. All of his belongings still had his scent and his toys were scattered around the floor waiting for him to come and play with them. After burying our boy 6 feet under the ground, we started to realize the hardest part of our lives had begun. My husband and I had to actually live a life without our precious baby. Just trying to find a reason to continue on and not take our own lives were things we had to deal with daily. After many nights of suicidal thoughts, we knew that we had to do something about the monstrous grief which might take our lives also. We started by attending two support groups and talking to other bereaved parents. Though we lived day-to-day in misery, trying not to end our own lives, we knew one thing. Charlie would never want us to take our lives in his name. That would not honor his beautiful life that he smiled everyday from the first moment he was born until the last moment he closed his eyes. We knew that he lived his life as happily as one could and he is now so very happy without SMA. Though it was very hard for us to see at that time, we knew in our hearts that he is in Heaven and finally able to freely move his arms and legs as he had always wanted.
So in the honor of his beautiful life, we decided to go on with our lives as hard as it was. We lived day-by-day and even sometimes moment-by-moment.
His room still had his wonderful scent after four months since he passed away. Words cannot begin to express how much we miss him. We cry almost everyday as we hold each other tightly in our arms. Charlie is our hero and always will be. Because of the sacrifice Charlie made, future generations will never have to go through the indescribable pain we had experienced. Our future generations will be tested for SMA and will be at a minimum, prepared for what they may have to face down the road. He is our angel now and forever and our future family members will be indebted to Charlie someday.
<After 1 year>
After we regained some strength, we tried to have a baby and unfortunately we lost another baby at 11 weeks of gestation on 5/21/04. We found out by a chromosome test that the baby was a girl and named her Angelina. The only comfort we have is to know that now Charlie is not alone and has a little sister with him in Heaven.
No matter how hard it is, there is one thing that has changed in our hearts from 1 year ago. We are determined to be parents to a beautiful baby like Charlie again no matter happens in the future. We made a choice to keep hope in our hearts. Hope grows a little at a time, like a desert flower trying to survive in the harsh and unforgiving sand. Hope is the only thing we can hold on to sometimes. Hope is like a rainbow in our hearts and can be greater than any faith at times. We have hope to join Charlie in Heaven someday and raise him again with the love we shared while he was here on Earth. We have hope to have another beautiful baby like Charlie on Earth again someday and share our unconditional love.
I know we will someday. I almost can clearly see Charlie's big beautiful smile and hear him saying, "yes, Mommy and Daddy. You will again experience the same joy. Be strong and always do your best. You are the best parents I could ever have. You made me the happiest boy I could be. Mommy, you were always with me and gave me the love and attention that made me smile. Daddy, you spent all the time you could with me despite of working and having to commute so far away. I appreciate that you worked hard so that Mommy could spend all the time with me.
I will always love you Mommy and Daddy. If life is measured by the love received, then I lived 100 years. The life is not about how long you live. It is about how happily you have lived in your given time.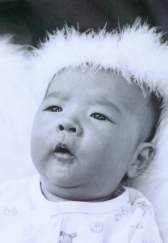 Until we meet again, I will always be with you in your heart."
We promised to our boy as he was dying. We will NOT be bitter and angry people because of his death, but will be the greatest people we could ever be because of his being in Heaven.
We will try our bests to keep the promise as long as we live.
We thank him everyday for the happiness and the love he has taught us during his stay and some day we'll really thank him for greeting us when we are about to die and leading us to the gate of Heaven.