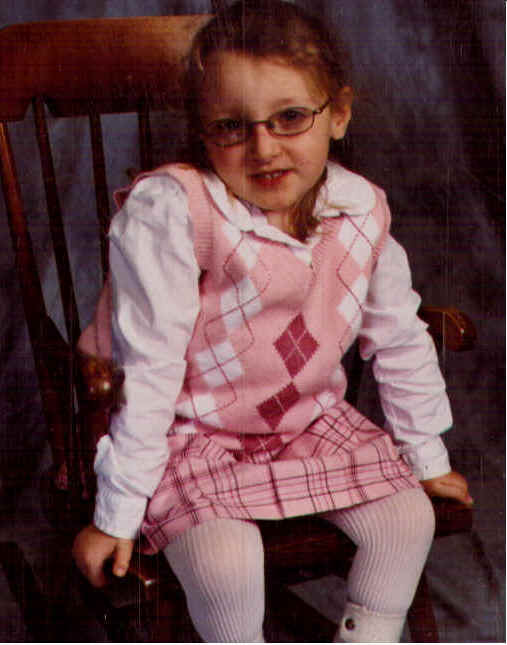 This is Crystal Allbritton just before her 6th birthday in 2005. At 18 months she was diagnosed with Spinal Muscular Atrophy, a very weak type 2. (Although some believe since Crystal was able to finally take baby steps on her own, that she is now type 3)
Rifton Gait Trainer for sale!! Please email me if you're interested. (this posted 02/07/07)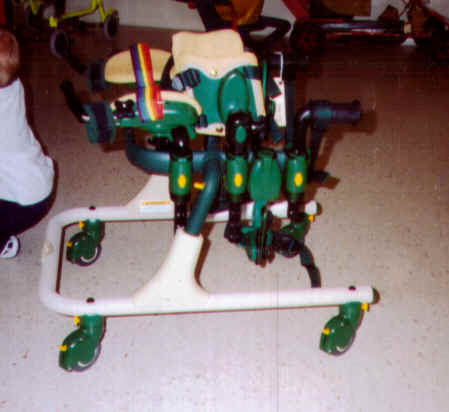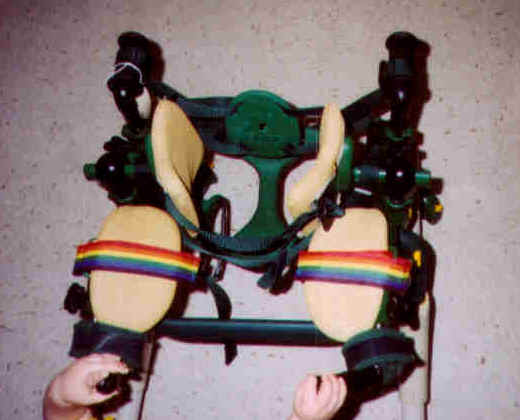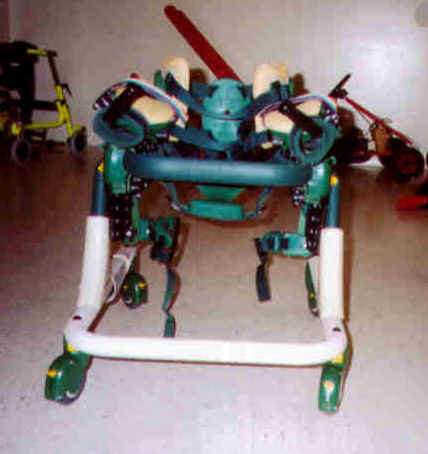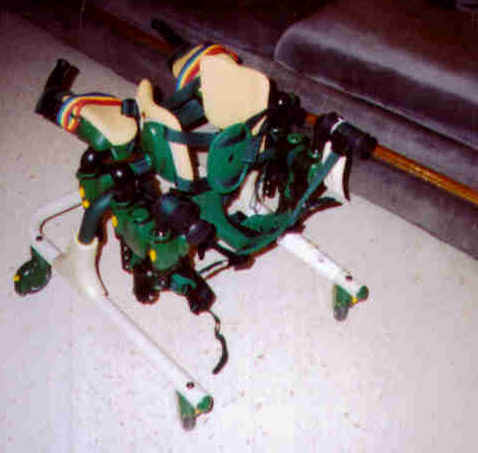 Please read carefully!
*CAUTION: This site is no longer being constantly kept current with Crystal, information about her, or any new discoveries concerning SMA over all.
Hi! My name is Brenda Brames. I am mother to a wonderful little girl named Crystal Allbritton. Crystal was born July 18th of the year 1999. When she was 18 months old, I found out she was affected with SMA type II. I immediately quit work and began dedicating my life to her care. I thought the odds were against her anyway, and I didn't see how it would be possible for me to give her the best possible life if I was not going to be right in the middle of all of her therapies and such.
At first, I such followed the doctors lead. I asked lots of questions and did exactly what the therapist told me to do. I stayed in school, but redirected my studies toward Medical Transcriptioning so that I would eventually be able to work at home. Some of the medical classes I had to take, actually, helped me understand so many things about how the body works. I also received lots and lots of information from the other parents of SMA children. The more information I collected, studied and began to apply to Crystal's care, little by little, I began to have a full grasp and understanding of what Crystal needed. In fact, so much so that I began to loose faith in some of the members of Crystal's care team.
Never in my wildest dreams did I ever imagine that there would ever be any kind of sickness that there wasn't a perfectly prepared care package to help the patient along with his problem. I stayed naive for a very long time, about 6 months. I hated what I was seeing. I drove myself crazy when I thought about how it didn't seem that she was being cared for properly. I thought that they knew what they were doing and I was just ignorant. I took a lot of beatings from myself before I finally, with the help of my counselor, Bonnie Rinks; wised up and began evaluating Crystal's needs for myself. I presented issues to her care team and I always provided documentation to show the relevance to Crystal and the benefits it would have for her, and then I requested for this to be included. I lost a couple of the members of her care team, which is okay because we replaced them with a couple of members that are so much better. I learned from this that there is such a thing as a therapist who doesn't care and just isn't very good at what she/he does.
Reason for site: I began building Crystal's site with two very important goals in mind: 1.) That the other families would be able to visit and get to know Crystal. 2.) That any families with a newly diagnosed child or even one that has known for a while but hasn't received the A+ care Crystal has, can learn from my information collection and from our (Crystal and mine) experiences, along with the knowledge of Crystal's care team.
Credits: Well, I guess I didn't realize how much information I had obtained through this short year, because what do you know? Now Crystal's site is HUGE and I just wanted to make it clear to anyone roaming Crystal's site, that this site is not being used for me to be gloried or thought of anything out of the ordinary. I will always appreciate any comments good or bad regarding her site, because your opinion is very valuable to me. But I also really frown upon the thought that I am an unusually smart, dedicated, or extraordinary mother in any way, because of the items in this site. I contribute some to the information on this site because I have had to read and organize information and then either copy and paste, scan it, or some things I have had to hand type. But the biggest majority of information included to this site came from other resources. I have been extra careful to include credit whenever I used something that originated elsewhere and I will continue to do so.
I really feel strongly about all the SMA families sticking together to fight this awful disease. I know that many families have reached out and helped me with my quest to be able to care for Crystal better and I want so much to be able to do the same. The only thing I have done is try to get everything on file so instead of me constantly having to retype help I had previously sent to someone else, I can just say, "Try reading page ***** on Crystal's website".
Caution: However, everyone reading this site, especially newcomers, needs to also realize that the information provided does not necessarily apply to every SMA child. I have not added any additional information that affects SMA children if it has not been an issue for Crystal. Also, I don't ever see an end to the research and learning of this disability and expect to be adding more as I learn and maybe changing some beliefs and information that has been posted. I experiment with Crystal a lot with her "Mommy therapy" and with her diet remedies. What I have posted should be considered as just an example of a way to care for SMA children. Crystal receives her care the way she does because of her abilities and because of her severity of SMA. Every normal child in this world has so many differences that you must consider how you handle things with them with that child's individuality in mind. This is also true with SMA children and maybe even more so because of the seriousness that some of the issues they are involved with, which can cause permanently damaging results.
Please: Understand that a lot of this information posted within this site is merely my opinion and should be taken as nothing more. I will not take responsibility if any of the information within this site is used carelessly and without thought to what I have included on this introductory page.
NO terms or conditions: Please feel free to share, copy, save, send or do what ever you want with any information within this site you find helpful or interesting. I do not expect or ask for any credit, just if you are using for your child's benefit or that of someone else's would be completing what I set out to do in the first place. If you have read and understand the statements above especially those listed under "credits", "caution" and "please" you may enter here:
Thank you for taking the time out to read my lengthy introductory page and I sure hope you enjoy Crystal's site. Again, if there are any complaints or suggestions, please E-mail me and I can correct it or maybe add it.
E-mail me with any questions, concerns, or interests...even just to talk!
God Bless!
"We Learned It By Living It!" title by Stephanie Varney. Details about the book I am wanting to put together are all included on here.
* UPDATED - 02/08/07 *
Now check out Crystal's Video page!