"Treasure every breath of life, "Growing old" is a privilege, "denied to many".
Think deeply, speak gently, love much, laugh often, work hard, give freely and be kind.
Live so when others think of integrity, honesty, caring and Love, they think of you." Author Unknown
Born January 6, 2000
Picture take August 2002 - 2 years 7 months old
Hello, and welcome to my home page!
Make sure you turn your speakers up & listen to my music!
Please do not forget to sign my guestbook!

New Pictures Added 04/25/04 to page 12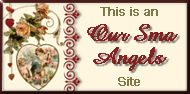 Supported by SMA Support.