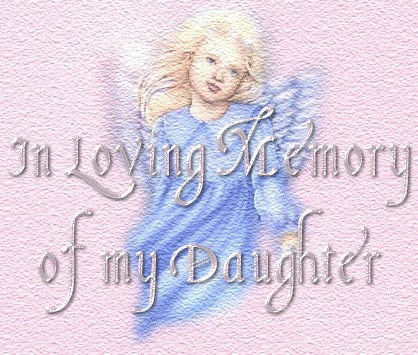 Dear Amanda,
I have some wonderful news for you, you are going to be a big sister! We are going to have a Healthy Baby Boy. We have decided to name him Justin Dean, in honor of your Granddaddy. I wish you were here to share in this excitement.
I went to Vanderbilt Medical Center and had a CVS, and it showed that he does not have SMA. We are all so excited, and can't wait until he arrives.
Amanda, although we are all excited about your little brother, he does not take the place of you. You will always be my Precious Little Angel, the first little baby I held in my arms. I will never forget you. Little Justin will be told all about you, he will know his Big Sister. He is due to arrive on Oct. 13, 1999, the second anniversary of the day your Granddaddy joined you in Heaven.
I am so thrilled at this news of having a baby, and yet it saddens me so that you will not be here to share with us. Our Family is incomplete without You.
Will you and Granddaddy please watch over little Justin and keep him safe while I carry him, and please be his Guardian Angels throughout his life.
I love you so much, and I miss you so much, but I know that I do have to try to go on with my life and have to try to make a normal life here on earth for your little brother. I will always love you my Special Little Angel. Amanda, please help me to go on until someday we are a complete family in Heaven. I look forward to this reunion.
I will always love you my Precious Little Angel,
Mama

Shelbie, thanks so much for Amanda's Award. To meet Kaleigh, click on the award.