Justin Dean Harris
Sept. 18, 1999
My name is Justin and I am Amanda's little brother. Mommy and Daddy are so very happy to finally get to hold me in their arms. I am SMA FREE! Although I am supposed to be the Healthy little boy they have been dreaming of, I have been having some problems, and worrying mommy and daddy so much. I am allergic to Milk, Soy, and Proteins, I am finally on a special formula called Neocate, I am doing better on this and mommy and daddy are so glad for that. I have been having to go to Children's Hospital in Birmingham, the same hospital that Amanda was diagnosed with SMA . It was so very hard for my mommy, daddy and nana to go back to that hospital. I am going to the clinic just across the hall from where Amanda went. I have to go back there on the 10th of Dec. to have a sweat test and an upper GI, the sweat test is to rule out Cystic Fibrosis, and the upper GI is because I am throwing up alot and they want to see if it is just reflux. When I was 3 weeks old, I started bleeding in my colon, I was put on a formula called Allimentum. This is a formula for babies that are allergic to both milk and soy. My bleeding got worse and I had to spend the night in the hospital, which scared mommy and daddy. I was ok though, I had not lost too much blood. The dr. kept me on the Allimentum and then about 2 weeks later I started having oil in my stools and I was throwing up oil, so my dr. here set up an appt. to see a GI Dr. at Children's Hospital. I had my 1st appt. on Nov. 8th, and he said that he believed it was just the allergies, but he wanted to do a test called a Flexible Signoidoscopy to make sure. This is a test where they go in the rectum with a scope and look around and take some biopsies of my colon. This test showed that I had eosiniphils in my colon, which means that I am allergic to milk and soy and proteins. The dr. then switched my milk to another formula called Pregestimil, I did worse on it, I was throwing up more and still having oil in my stools. After about a week, I started taking the Neocate. I am still throwing up the oil and still have the oil in my stools, but I am acting alot better now. This formula is making me feel better, although it does make me constipated, so that part I don't like. Mommy will update this page often and let you know how I am doing, so make sure you come back and see what is going on with me.
1-27-00
The sweat test came back normal, no CF!! The upper GI showed that I have Reflux, I can't take any of the reflux medicines, I am allergic to them, so I am just on Zantac and Maalox. I seem to be doing better now. I am still on the Neocate and have just started eating oatmeal and pears. The rice cereal cramps my stomach but the oatmeal doesn't bother me. I am not constipated anymore and over all I am doing good. I still get choked on the reflux and have quit breathing several times because of it, which is really scarey. I still throw up, but not as much as before. Hopefully I will grow out of it soon. I have found my hands and love to get my toys in my mouth!!!! I love my cousins, Nikki and Haley and they just got their little brother TJ on 1-23-00, we are going to be like brothers. I am now 4 months old and am a very happy baby.
Update 7-27-00
It has been 7 months now since we have updated Justin's page. I will try to do better! He is doing GREAT!!!!!! He is now 10 months old, crawling everywhere, pulling up to everything and getting into everything!!! His reflux is alot better, he is no longer throwing up 20 to 30 times a day. He still has reflux though, now it is more silent. He does not sleep good at night, or in the daytime! He is a very busy little boy, wants to know what is going on all the time.
Justin looks alot like Amanda, but he is his own little man. The only time he likes to watch tv is when a commercial is on! He is really funny. Life is good, I thank God everyday for Justin. Having Justin doesn't make missing Amanda any easier though. People have told me to have another baby, then you'll feel better. Well, in some ways it is harder, I miss Amanda more and more everyday. But I do thank God for Justin and I love him with all my heart.
Justin will be a year old in only 2 months, where has the time gone? This year has flew by!!! I went back to work a few months ago, working part time. It is really hard to leave my little man. I really enjoyed the 8 months I got to stay home with him. His Nana is keeping him while I work, so I don't have to worry about him. I just miss spending time with him.
I will try to do better about updating his page. Take a look at all his pictures! He has really grown! He now weighs 22 pounds and is 10 months old. Check out his pictures on Zing by clicking the arrows on the box with his picture at the bottom of the page.
Update March 17, 2001
Justin will be eighteen months old tommorrow. Time sure has flown by. He is doing much better with his food allergies, he is no longer allergic to milk and soy, but he has developed an allergy to wheat and cantelope. He doesn't seem to have any reaction to wheat so he does eat it now. We haven't tried him on anything in the cantelope family since he tested positive.
Justin is now older than Amanda was when she passed away. It amazes me at the things that he can do that Amanda never could. He is into the climbing stage now, he loves to climb on the couch and chairs. It is making me a nervous wreck, having to watch him all the time and hoping he doesn't fall and hurt himself. He is a very strong little boy and he has a temper like no other! He can throw a temper tantrum faster than any child I have ever seen. He is a mess though, he is very loving and will give you smacking sugar now. That is so sweet! When he is sleeping he looks like a little Angel. I wish I had half of his energy. :o)
I said I would try to do better about updating Justin's page, I will say it again, I will try :o) Having a healthy toddler sure does keep you busy. Justin still looks a lot like Amanda, some of the expressions he gets makes him look even more like her. It is so heartbreaking sometimes, seeing Justin look like Amanda and wanting Amanda here too. We miss Amanda very much and Justin will feel like he knows his big sister, we talk about her all the time. I just wish he didn't have to just hear our stories, but that he could have met his Angel Sister Amanda. I know she will always watch over him and be his Guardian Angel.
Update 5-31-02
Just wanted to update everyone on Justin. He is now 2 1/2 years old and doing great! He is no longer showing any signs of being allergic to anything but the seasonal allergies that everyone in our area has. He can eat anything now and that is wonderful. He is a very active little boy and keeps me hopping. He loves to climb and is a little dare devil. He is a very loving little boy though and he still looks like Amanda quite a bit. A few weeks ago we took some flowers to Amanda. Amanda has a picture of her on her marker, and when I was cleaning the picture off Justin started jumping up and down excited and said "Manda, Manda"! It was so sweet. He really knows his big sister and I know she is watching over him. Tomorrow is Amanda's 6th anniversary, she went to heaven 6 years ago tomorrow. I still can't believe my angel is gone, it is so hard some days to go on, but I know I have to for little Justin. He does help, make my life more bearable. It is very bitter sweet, everytime Justin accomplishes anything I wish Amanda was here with us to watch these milestones. I think that is all for now, I will try to do better with updating Justin's page. He is a very happy, healthy little boy. Here is his latest picture we had made. Thank you for visiting and have a nice day.
January 28, 2004
Justin is now 4 years old. He is a very happy, healthy active little boy. He is into Batman and Robin, Superman, Spiderman, The Hulk, all little boy things! Right now he is watching Buzz Lightyear. Justin is on the go constantly, he climbs, runs, jumps, you name it and he does it! He is so full of energy. I wish I had half of it! The only thing I am concerned with is that Justin doesn't like to eat, he just doesn't have time and he won't try new foods. I think it comes from all his allergies as a baby, he didn't get to try things like other babies, now he just won't. I am planning on going back to work soon, I have really enjoyed being able to spend these first 4 years with my little boy! I didn't realize it has been almost 2 years since I put an update on here. Justin is doing fine, he knows who Amanda is and loves his sister. I know she is watching over him, his own Guardian Angel. I will try to update more often. Thanks for visiting and have a nice day!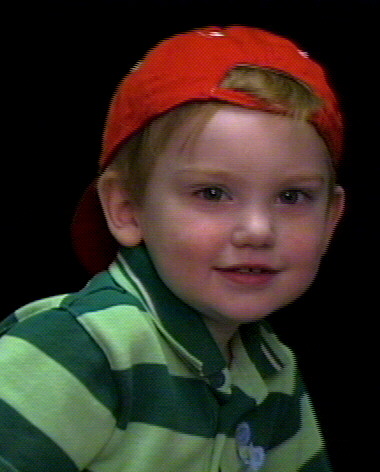 Check back, I will update again soon.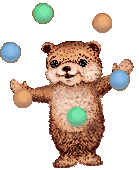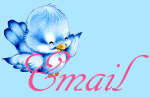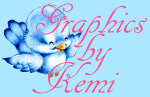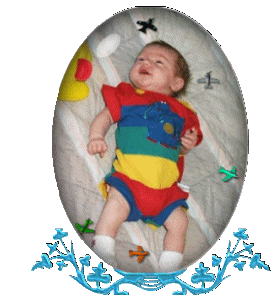 Thank you Joyce for making Justin's Globe!!
December 3, 1999