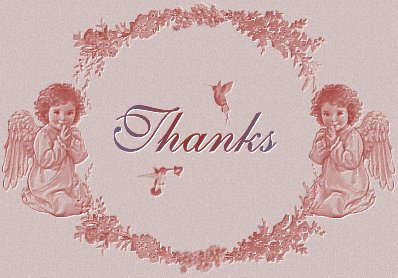 My Aunt Sue wrote this poem for my mama.
She gave it to my mama on June 1, 1999, 3 years after I had gone to Heaven.
Thank you Aunt Sue for this Beautiful Poem.

Our Guardian ANGEL
AMANDA Kate Harris was an angel sent from God
Her mission in life was to show us the path to trod,
Her life here on earth was short, but full of love
As she guided us to strive for heaven above.
For one so small she had a big task,
In 17 months she accomplished much and we should not ask,
Why God oh Why did you abandon us so?
For God does not stoop so low ,
As to give us more than we can bear,
But is there to help us with such care!
Amanda is in heaven with those who have gone before,
Just waiting for the rest to get to Heaven's door.
At heaven's door she will greet us with a smile so sweet,
As she shows us how she can now use her feet.
Amanda is running and dancing around,
Playing hiding seek with the angles in white gowns.
When nights are long and so dreary,
Think of that beautiful smile that was so cheery.
God gave us an Angel to love and to hold
No one else would ever be so bold,
Or show such love
To guide us to that home up above.
For surely Amanda's birth and time on earth
Could surely be likened to that other birth,
When Mary gave birth to the baby Jesus
Who was our savior
Sue Harris gave birth to her guardian angel
by
Sue Davis