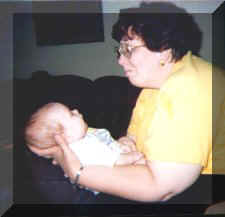 This is me with my Aunt Marilyn, she wrote this poem for me the night I went to Heaven.
Touched By An Angel
Amanda Kate
Our own precious gem
Was sent from above
To bring us such Love
That it's hard to imagine
Life without her!
The day she was born
Each heart filled with glee
Who came to the hospital
This angel to see
Her eyes sparkled brightly
Her skin was pure white
Her hair glistened like honey
But it was her smile that brought delight.
For when she smiled at you
A twitch would start
And immediately you knew
She had stolen your heart!
At that time, however,
Thank God we didn't know
That her stay here with us
Would be short, then she'd go
On to heaven
To live up above
With all who'd gone before her
And to experience God's great Love.
As month's passed quickly,
We all became aware
That Amanda would never walk
But be confined to a chair.
And then we realized that it would be Very bad!
Not only would she never walk,
But this disease that she had
Would rob her of freedom
And cause her to die
And one could not help but ask God
WHY? WHY? WHY?
But her Mom, Dad, & Nana
Developed a special plan
"We'll make Amanda's little life
As wonderful as we can!"
They took such good care of her,
They rocked, walked and sang
Made sure she had all she needed--
THEY DID EVERYTHING!
And all those around them
Marveled at such love
No doubt they are special people
Chosen by God above
To care for this Angel
And though we don't understand,
Amanda had a purpose here
Yes, her life was grand!
So goodbye sweet Amanda
It's hard letting you go
But your life is now better
For you're with Jesus we know.
By Marilyn Miller